Back to products
Maroni fehérarany chestnut puree cooled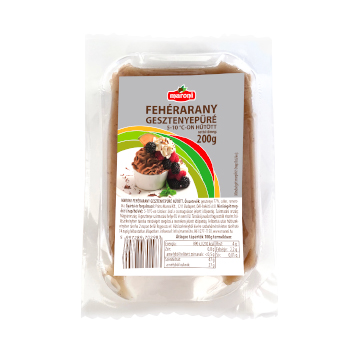 cooled product
Classic chestnut puree is no longer just in frozen form!
There is no more waiting time for the chestnut puree to thaw, nor for the product forgotten in the freezer under the green peas.
Thanks to the vacuum packaging of the Maroni fehérarany chestnut puree and the technology used, it retains the true aroma and taste of the chestnuts.
Ingredients:
chestnut 77%, sugar, rum flavouring
Nutritional value (per 100 g):
Energy: 890 kJ/210 kcal
Fat: 0,8 g
from which saturated fatty acids: <0,5 g
Carbohydrate: 47 g
from which sugar: 27 g
Fiber: 4 g
Protein: 2,2 g
Salt: 0,01 g
Further informations
Weight per unit: 200 g
Packing per carton: 6 pc.
Best before: 6 months, stored between 5-10°C